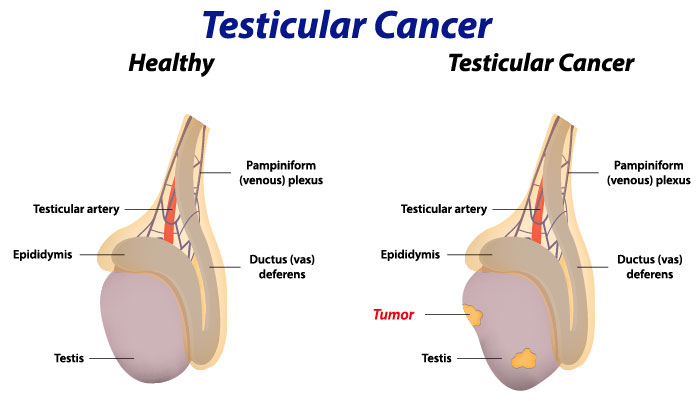 Cancer of the Testis
A patient may present with a hard non-painful mass within the testis. There may not be any enlargement of the testis.
If a man has an undescended testis or has had surgery for that then there is an increased risk of testicle cancer. It is recommended that boys and men 15-45 do self examinations once a month in a warm bath or shower. A cancer is usually a hard lump which is not painful.
If a testicular cancer is suspected then usually an ultrasound is carried out. A blood test for tumour markers is also performed. Tumour markers are substances which appear in the blood stream with certain cancers.
We will screen for symptoms and conditions in order to make the right diagnosis, to allow us to begin treating you effectively and give you the best possible way to recover.
Treatment
The method of treating a patient is a Radical Orchidectomy which is removal of the testis carried out through a groin incision. A biopsy should not be carried out as this risks the cancer spreading.
Testicular tumours tend to spread to the glands in the para aortic region.
This is the area beside the kidneys. A CT scan is done to assess this.
When the operation is carried out it is usual to insert a prosthesis which will give the appearance of a normal testis present and is usually covered by Health Insurance.
Patients with testis cancer are often of reproductive age and may not have had children and therefore discussion regarding preservation of semen may be appropriate and the patient can be referred to a specialist to help.
After the diagnosis a regular follow up with blood tests for tumour markers and scans are carried out for at least five years.
Further treatment may be necessary with radio-therapy or chemo-therapy or both.
If you would like to talk to someone about your particular symptoms,. you can speak in confidence with one of our staff: you can discuss any experiences and issues with us or feel free to call and make an appointment on 07 4041 0700